Safety, Comfort & Reliability...are the hallmark of our service...
The quintessential experience on the road. Expect service that is professional and always efficient if it's for business purposes. Prepare for a night out that is fun, exquisite and satisfaction guaranteed for all your leisure plans. Regardless of what the occasion may be, we at Ultimo always promise one thing. That every single ride will never be the same. And every single journey will always put a smile onto your face.
For business, pleasure or that special occasion we go the extra mile in ensuring each guests requirements are fulfilled.
We are proud to have been involved in many prestigious international events held in Malaysia. Hence, we have extensive experience in serving foreign dignitaries who demand and expect excellence in service. Amongst the world class events we have had the privilege of serving are:
Filming of Hollywood movies Entrapment and Anna and the King
Worlds Strongest Man & Woman Competition
Formula 1 Grand Prix
Musical performance of Fame , Cats and riverdance
Miss Malaysia World Pageants
Inaugural English Premier League Asia Cup
Langkawi International Maritime & Aerospace
And many more...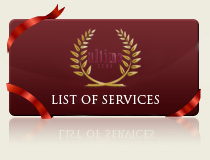 Ø Weddings
Ø Anniversaries
Ø Birthdays
Ø Romantic Rendezvous
Ø Golf Tournaments
Ø Graduations
Ø Shopping
Ø Health Spa
Ø Tours and Event Management
Ø Holiday Breakways
Ø Gala Dinners
Ø Entertainment
Ø Meetings
Ø Conferences
Ø Intercity Transfers
Ø Airport Transfer for Arrival and departure
Ø Event Logistics
Ø Coach Transfer Services
Ø Limo / Salon Transfer within Kuala Lumpur City
Ø Airline Ticketing Services
Ø Hotel Room Booking Services
Ø Car Rental / Leasing